I've taken quite a few long distance hikes in recent years, from walking around Ireland and walking the Camino to hiking the Pacific Crest Trail in America. These trips were very different in terms of climate and logistics but I still managed to use much of the same equipment on each one. That being said, the winter weather is not to be underestimated in Ireland and especially warm gear is essential for this time of year.
But what exactly should you carry in the Winter months?
Here's a list of what goes into my pack in Winter…
The Big Four – My Shelter, Mattress, Sleeping Bag & Backpack
Tent – Vango Banshee Pro 200
If I had a few extra bob, I might invest in the ultralight MSR Hubba Hubba NX. However, there's no getting away from the fact that my Vango Banshee Pro 200 continues to find its way onto my packing list for every trip here in Ireland. It's green which helps this tent blend in with the environment but more importantly, it performs surprisingly well in most weather conditions and has just enough space inside for both myself and the backpack – I recommend keeping your backpack inside at this time of year.
Mattress – Trek 3 Compact Mat
I have a foam mattress and a Thermarest and use both for camping in Winter. But a proper Thermarest is needed at the very least to keep you off the cold ground underneath. Weight is usually the reason for a difference in price between these mattresses. The lighter the mattress, the higher the price and I find the Vango Trek 3 Compact Mat is quite affordable, while the Neo Air would be my dream mattress!
PS. It might seem as though I'm biased toward Vango in some way but that's not the case. I've tried so many options and Vango continues to outperform in many cases.
Sleeping Bag – North Face Blue Kazoo
I used a North Face Blue Kazoo for many years and it served me well. But it wasn't always warm enough and a sleeping bag liner is now required to get a decent night of sleep in the winter months. For this reason, I am looking at a few sleeping bag options such as the Thermarest Questar. Although some sleeping bags might seem a little too warm, it's important to remember that you can often regulate this temperature. Opening the sleeping bag is one way to do this and it's certainly better than shivering the night away in the cheapest bag you could find. Just so you know, a cold weather sleeping bag will have more synthetic or goose down insulation and will often have zippers above the shoulders and a hood to keep in the heat.
My Backpack – Osprey Exos 58
If you're going for quick overnight camp in Winter, it's still necessary to carry more gear than you might in the summer months. That's why I often use my biggest backpack for the winter months. It should be remembered that carrying a slightly bigger backpack doesn't add a lot to your base weight if you pay close attention to the contents. The Osprey Atmos AG 65 is a nice alternative to the Exos.
My Winter Clothing
My Shoes – Merrell Moab
I wore Altra Lone Peak shoes for my hike on the Pacific Crest Trail and these trail shoes are incredibly comfortable. However, I also wore the same type of shoes for my walk around Ireland and it just wasn't the same. It's obvious now but the wet and muddy conditions in Ireland were much different to the mostly dry landscapes in America. I have been really impressed by the Moab which keep my feet dry, while providing great support and protection for hiking in Ireland. If you prefer boots, there is also a boot version of the Merrell Moab that you should check out.
My Socks – 1000 Mile Socks
When I came back from America, I had fully realized the importance of hiking socks. There was an American brand called Darn Tough that really impressed and so my mission was to find a similar type of brand/sock on my return to Ireland. I wore several brands on my walk around Ireland last year but 1000 mile were the only socks that lived up to the job. They are warm, durable and comfortable – enough said!
Underwear – Ex-Officio
Have you heard of these before? Ex Officio Underwear is comfortable, light and quick to dry. Since I began wearing this type of underwear, I always wear and carry them in my pack.
Gloves – One Light/One Waterproof
It's important to have more than one pair of gloves and I almost always need to rotate these gloves in the winter months. This is often because the first pair gets wet. But I also like to have a rather light pair of woolly gloves for milder days or for wearing inside the tent at night.
Base Layer and Middle Layer
Aside from the long johns I mentioned already, I usually wear and carry a polyester or wool top that can wick away perspiration. This fabric will help keep the skin dry and warm. I will also have a sweater as a middle layer but some hikers/campers will prefer something heavier like a fleece. If the middle layer is not that heavy, just make sure your outer layer (jackets) are sufficiently warm for the environment/conditions.
Jacket – Regatta Down Jacket
Believe it or not, I wore a down jacket from Penney's on my walk around Ireland and also using a Regatta puffy jacket at this time. But that also meant carrying a bulky jacket that was rather difficult to squeeze into my backpack. I'm personally thinking about buying either the Arete Hooded jacket or the Lightline jacket – both by Mountain equipment. Either way, this type of jacket is essential and a great item for wearing inside the tent on cold nights.
Rain Jacket – North Face Soft Shell
My North Face soft shell has lasted through multiple trips over the last five years. I've been looking at this jacket and also this jacket by mountain equipment.
Headwear – Beanie Hat, Baseball Cap & Buff
I wear a baseball cap when it rains because I like how it shields my face and eyes from the elements. But the beanie hat is essential and something I wear at every opportunity – even when I jump into my sleeping bag. A buff/snood/morf is also a lifesaver in windy conditions and will save your face and lips unnecessary discomfort.
Trousers & Rainproof Pants – Sprayway Rask
Rain pants are not only small and lightweight but also an absolute necessity for hiking or camping in winter. It's just so important to have waterproof layers to keep everything underneath as dry as possible. Even in light rain, I will often stop to put on my waterproof pants to ensure a comfortable day of hiking and a dry night in the tent. The Sprayway Rask are comfortable and breathable, while also light and compact for packing away.
Cooking Gear in My Backpack
I have a small MSR pocket stove which is fantastic. However, I sometimes long for the ease and convenience of a Jetboil. Cooking can seem like a chore in winter, especially when it gets cold after a long day hiking and a simple cooking system is worth the money. I also have a titanium pot, mug, spork and tiny kettle for morning coffee.
PS. Don't forget matches and a lighter as backup.
Food and Water for Cooking in Winter
I always make drinking water a priority and use a water filter to purify anything taken from rivers. It's a nightmare to run low on water whilst cooking in the evening so the best way to avoid this from happening is to carry more than you think you will need. For food, I take meals which are quick and easy to cook which makes ready made meals such as this pasta and meatballs meal by Wayfarer for camping in winter. Otherwise, oats, cereal bars, chocolate, biscuits and a bagel with cream cheese will often find a way into my backpack!
Other Accessories in My Backpack
Headlamp – Petzl Actik Core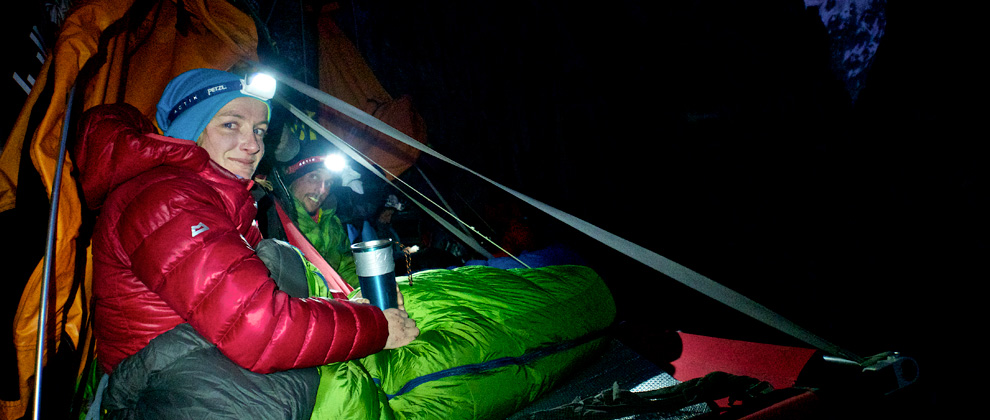 I know LED Lenser is getting some proper traction and rave reviews in the outdoor industry. I'd love to have one but honestly, I find no reason to do so until my Petzl Actik Core gives out or gets lost. It's a powerful headlamp with 350 Lumens and several modes between which you can alternate while hiking, cooking, pitching the tent or even reading at night.
Map, GPS & App
You really need to have a map at the very least and while paper maps are good, I personally find a GPS app such as Maps.me or Google maps extremely useful in the outdoors. Needless to say, you should have your phone and take a power bank to ensure this can be charged or recharged whenever needed. I also hike with my phone on airplane mode which will help conserve your battery throughout the trip.
Toiletries & Luxuries
I carry very little toiletries and aside from soap and toothpaste/brush, I can only think of lip balm as a recommendation to carry. As for other items, toilet paper and a small spade will sometimes come in handy and anything else that is small and important to you.
Final Thoughts
I carry more weight in the winter months and always err on the side of caution. It's best to carry "too much" and focus on what gear can keep you dry and warm. As for the process itself, it's just so important to keep clothing and gear as dry as possible and not to wait until you are wet or cold before adding layers to protect against the elements.
Anyway, that's all for now so thanks for reading and please do enjoy camping this winter!